Looking for a party venue oozing of history, intimacy, soul, and love? Jomfrubakken is the place!
Besides at the beautiful church in Mariager, the ceremony can also take place at Jomfrubakken – that includes both civil and church weddings. Many couples decide to have their ceremony at Jomfrubakken, because of the beautiful surroundings with a lovely view of Mariager fjord. You decide where in our garden you want the ceremony to take place – the sky is the limit.
Wedding weekends are popular! You have the opportunity to get Jomfrubakken all to yourself. The houses will in that case be available to you from, for example, Friday afternoon at 3 pm until Sunday at noon. The exact times are changeable – this will be agreed upon when booking. Some guests choose to do a mini vacation at Jomfrubakken in connection with the wedding – there are lots of activities, shopping etc. in and around Mariager Fjord.
It is important to us to match expectations with you to ensure the big day and the following party are exactly like you want them to be. Together, we create a time schedule to make everything run as smoothly as possible. We care a lot about the little details to make sure you get everything you wished for in your wedding.
We've gathered the most important things to remember when planning a wedding, which you can download for free right here.
Our dog doesn't want to come home – amazing place – calm – a good night's sleep – amazing surroundings – intimacy – outstanding service – beautiful area – charming – hospitality – warmth – well-being – unforgettable – a true gem – honored – tasteful – relaxing – it's like coming home – nice stay – 6 stars out of 5 – openness – cozy – caring – atmosphere  
We were both students.
It was important to us to have our wedding at a venue, where our guests had the possibility to stay the night without massive expenses. We were both students when we got married, so we made ends meet by letting the guests pay a little for their overnight stays, buying our beverages at the Danish-German boarder shop, having a cake buffet made by family members and doing the floral decorations ourselves (including the wedding bouquet!). We loved having the possibility to go to the venue Friday afternoon with our closest family and prepping everything for the wedding the next day. This way, we ended up having a wedding weekend instead of just one wedding day.
Our advice to you
Make sure to have a professional photographer that you trust. You can't redo your wedding day. Don't be afraid to involve your families in the preparations – most people are happy to help. We brought a laptop using Spotify for the music from around dinnertime and onwards. That worked very well. Before the wedding, we spent a couple of nights making playlists with music we liked. This way, our guests were able to find and listen to the songs, they would like to hear on the dancefloor – no "not in our repertoire"-comments from some band.
Remember to enjoy the day, it goes by so fast! We also think it is worth mentioning that the details are not important – you'll have a lovely wedding even though a decoration or a diet coke is missing on one of the tables.
Our photographer was Thomas Illeman. He was very talented, so we would recommend him any time. He took pictures for and of us from our preparations early in the morning to late at night. Hairdresser Malene Tinggard did my (Leas) hair and make-up in the morning. She came to Jomfrubakken and was both talented and very sweet. She gave my bridesmaids some good advice while she was there. Her contact details are: salonmalene@gmail.com. The dinner consisted of a three-course meal from Smageriet.dk. Our guests really liked the food, which we got at an affordable price. When delivered, the food from Smageriet is almost ready to serve and we would definitely order food there again.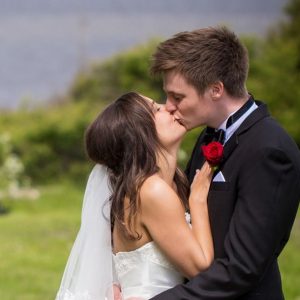 The venue has everything we need.
When arranging our wedding, we wanted to do as many things as possible ourselves, yet not have the party at home. We chose Jomfrubakken because of the beautiful surroundings, that are perfect for a wedding, and because the venue had all the conveniences needed. The hall only needed a few decorations, as the big wooden beams, the natural light and the beautiful wooden tables already created quite a nice setting and vibe. For the table decorations, we only added a runner, a few candlesticks, and flowers in small vases (Jomfrubakken has a nice collection of beautiful vases and candlesticks to use as well as plenty of tableware and glasses).
The morning after together
The biggest advantage was having both the party and the overnight stay at the same location. Several of the guests at the wedding tend to go home at different times during the night. However, since everyone were staying the night at Jomfrubakken, they were able to party longer with us than usual – not to forget the very cozy and nice morning after together with our friends and family (and more hands to help clean up). All this combined with a lot of sunshine, happy guests and committed owners made the most amazing day for us. We will definitely keep Jomfrubakken in mind for future parties. The biggest advantage was having the party and the overnight stay at the same location
We became aware of Jomfrubakken by coincidence, when we there for a birthday party. We immediately fell in love with the beautiful nature and the amazing surroundings.
The "old" Jomfrubakken is freshly renovated to give the full experience of the old charm combined with modern convenience. The owners were a delight being very caring and flexible yet still very discrete.
When it was time for us to decide on the venue of our wedding, we didn't have to think long.
In addition, Jomfrubakken was a good choice for us, because we wanted to show the beautiful Mariager Fjord to all our guests flown in from all over the world. To us, Jomfrubakken was the full package – unique nature, cozy hotel run by good people.
Since then, we have celebrated one of our anniversaries and the christening of our twins there.
Jomfrubakken holds a special place in our hearts
The wedding weekends at Jomfrubakken are very special, where both guests and hosts go home happy after a relaxing, fun, and eventful day/weekend. Many of our bridal couples return to Jomfrubakken at some point to remember their big day and do a second honeymoon stay here.
Frequently asked questions about weddings at Jomfrubakken. Get an answer to some of the questions many bridal couples have when considering having their wedding at Jomfrubakken.